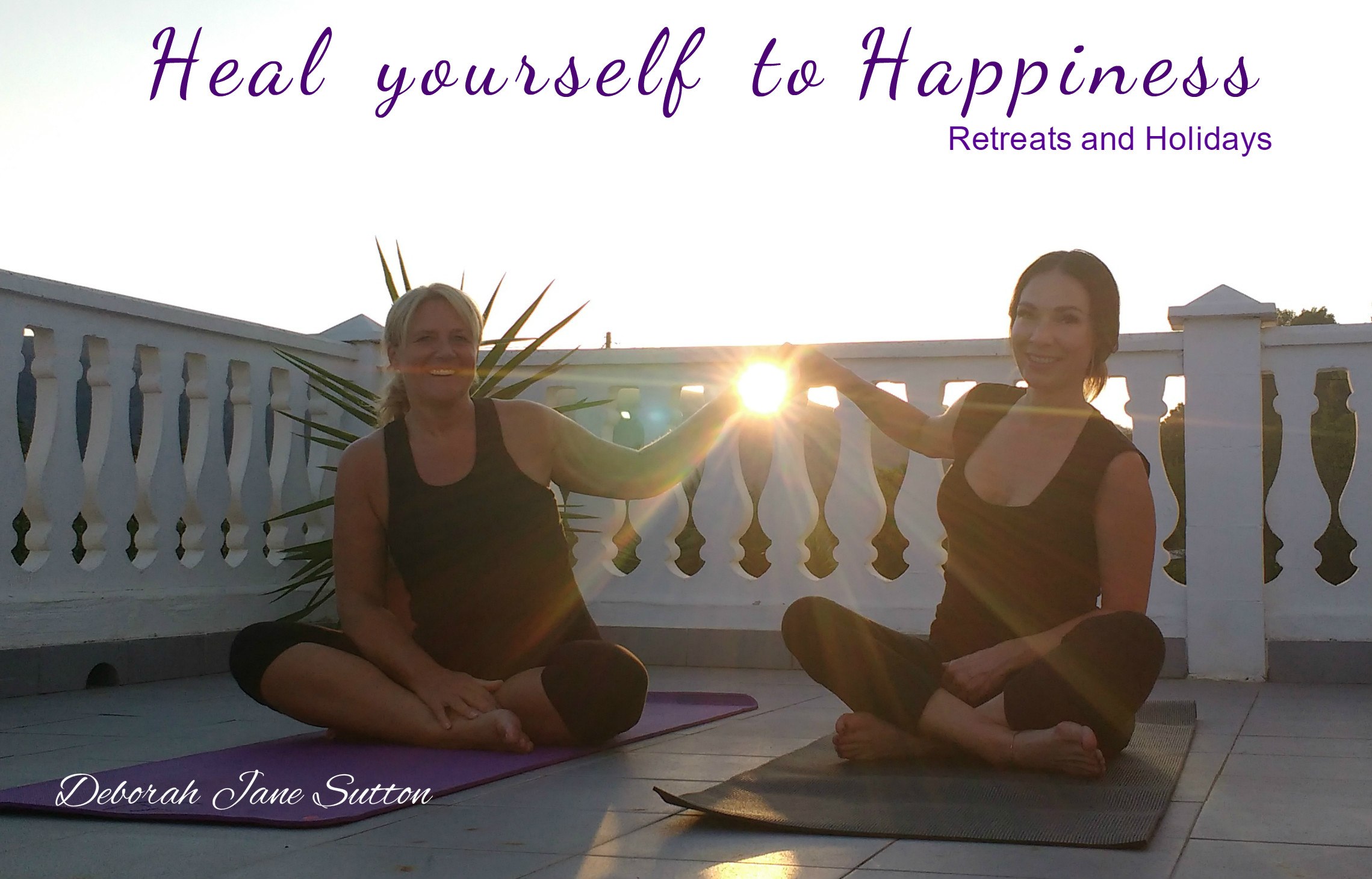 Retreats
Heal yourself to Happiness


with


Energy Healing and Yoga
Come and join us and...
Heal yourself emotionally using The Emotion Code
Identify and release beliefs that are holding you back
Love and Accept yourself completely
Understand the Importance of Breathing, Love, Gratitude and Visualisation
Discover your Soul's profile so you can express your true nature
Add healing and meaning to your Yoga practice
See the Bigger Picture to help you accept and forgive
You will also be able to enjoy:
walking and hiking in the mountains

the private swimming pool and tennis court

Free trip to the

local monastery and unspoilt sandy beach at Tavernes Playa

20% discount on all massages and holistic therapies

Free airport transfers from Valencia airport (VLC)
We welcome absolute beginners to experienced Yoga teachers - all ages, all levels and all walks of life
All we ask is that you have an open mind and a genuine desire to heal your life and find true happiness
Retreat dates:
9 - 14 June 2019
16 - 21 June 2019
30 June - 5 July 2019
23 - 29 June and 8 - 14 Sept 2019 Rewrite your Reality Retreats
*The first and last days are travelling days
Classes and Workshops run from the Monday to Thursday
Open all year round for private small group or 1:1 bookings - Call me for a chat about your personal needs and preferred dates and how we can help
Includes:
​

Release negative emotions through simple yet effective self-healing techniques to raise your vibrations and cleanse your energy
Learn what your Soul's unique gifts are so you can better align with your true purpose
Includes Free Heart Wall release and Free Soul Profile before your arrival
"Thank you so much for this life-changing experience."
Alicia Campbell, Alberta, Cananda
Learn how to release the energy that is stopping you from loving and accepting yourself completely
Embrace the joy that is Self-Love so you may experience and welcome more love and healing into your life
"I can highly recommend Deborah's Energy Healing Retreat to anyone looking for more positivity and (self) love in their lives."
Anna Burchell, Yoga Teacher, Germany
Some people shy away from the meditation aspects of Yoga, not really understanding what meditation involves.
Others are well on their path to a deep and insightful personal meditation practice.
Wherever you are on your meditation journey, you will find space, support and teachings to help develop and deepen your own healing, meditation practice.
"The atmosphere was spiritual, uplifting, relaxing and non-judgemental and provided a great space to look within and heal the spirit, mind and body."
Olivia, Yoga Teacher, UK
Self-Love Yoga is a must!
Understanding your life force energy is key when practicing asanas.
We will work together to create a personal Yoga practice for you that will cater to your individual healing needs whether that be on a physical, emotional, mental or spiritual level.
You will be guided on how to adapt your personal Yoga Sadhana to different needs over time.
Primary focus is one of self-love and devotion as well as building greater strength, balance and flexibility - both on and off the Yoga mat!
"The Sunrise Yoga felt like a spiritual awakening every day…..Deborah is a FABULOUS Yoga instructor"
​Wendy Sites, Chicago, USA
"Deborah's Yoga teachings have significantly improved my practice"
Michelle Archer, Calgary, Canada
"Your Yoga made me so intensely happy"
Else Van der Velden, Holland
Villa Rosa is in a picturesque part of Valencia, surrounded by mountains and orange groves which provide the perfect location for local walks and mountain hikes.
The Villa has beautiful gardens with its own private swimming pool and tennis court. There is also an onsite massage and holistic therapy salon where you can book a treatment.
"The best massage I have ever had!"
Michelle Archer, Calgary, Canada
Breakfast and lunch are self-service from the healthily stocked kitchen with its healthily stocked fridge!
All evening meals are vegetarian and vegan and are cooked lovingly using local produce where possible (often from our own garden)
"Robert is an amazing cook"
Alicia Campbell, Canada
"Robert made us a delicious vegetarian paella for our last night"
​Anna Burchell, Yoga teacher, Germany
Free time is an important part of the week's program. It allows you to absorb the learning, share and practice what you've learned and settle your energy on this very special journey of self-discovery.
A Typical day: (times can vary)
8am Sunrise Yoga class
9:30am Breakfast break
10:30 Workshop (with short break for tea etc)
1:30pm Lunch
FREE time
2 x Meditation Class during the week at 6pm
7:30pm Dinner
Free Evening
​

Shared room: €999 (all inclusive)
​​

"What an amazing experience to reconnect with yourself and learn the many ways you can transform your life for the better. I have never felt so peaceful and relaxed than in my time at the retreat learning from Deborah, being fed by Robert, and taking time to myself in the sunny hills of Alzira. My week in Spain was truly eye-opening, and has helped me in my daily life ever since."
Morgan Zerr, Canada
"Deborah guided me to open doors to an unknown spiritual world. I've never learned so much in a yoga class.
She made me feel why yoga is good for you. Thank you so much."
Wenche Kwinten, The Netherlands​
For more, fuller testimonials click here
​

Deborah Jane Sutton is an expert in Energy Healing and a Yoga Teacher with over 500 hours of Yoga Therapy Teacher Training.
The author of two #1 Best Sellers in Energy Healing on Amazon, Heal yourself to Happiness and Heal your Soul, Deborah has both the knowledge and experience to help you learn and apply effective Energy Healing techniques and all aspects of Yoga.
Deborah's purpose is clearly with helping others on their healing path. Helping people see the bigger picture, the power within themselves and nurturing self-love are her strengths. That and her powerful love and compassion for all those who genuinely seek awareness and healing.
As Deborah says,
"Healing is all about self-realisation, love and spiritual growth"
Contact Deborah for more information: