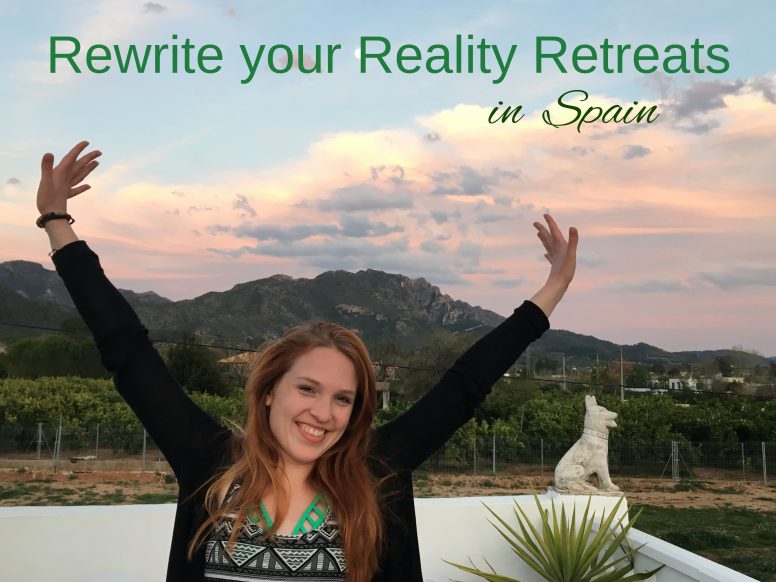 Rewrite your Reality Retreats in Spain
Are you ready to take your self-awareness to the next level?
Do you.............
Want to stop being triggered by those around you?
Have relationships that need healing?
​

There are always situations, memories and people in our lives that trigger emotional suffering of some sort within us. This emotional attachment can often lead to physical illness, malfunction and disease. It can also cause us to over-react in certain situations or cause us to avoid or limit certain experiences in the future.
However, there are a number of Energy Healing modalities, Meditation techniques and thought processes that can, quite literally, help you see the bigger picture and let go of any suffering you have attached to life experiences and situations.
Rewrite your Reality Retreat offers you the unique opportunity to let go of emotional pain and suffering and allow you to detach, change perspective and grow so you can heal your life and your reality.
Change the story, rewrite history and heal your reality
Through a combination of meditation, healing, coaching and other awareness raising sessions, you will be lovingly led to a place of self-realisation, understanding and empowerment where you can release old stories of suffering and replace them with peace, acceptance, forgiveness and even joy.
"The work is an absolute game changer and a real eye opener. It made me realise that I'd been thinking about problems the wrong way around, so no wonder I hadn't found a solution. It gives you a different approach to tackling situations and I actually felt as if a great weight had been lifted from my shoulders after only 1 session. Will definitely be following up on this. Thank you Liz, Deborah and Cecilia."
Melissa Page, Workshop participant, Spain
​

We are passionate about providing personalised care and attention.
Therefore, this Retreat is open to max 4 guests and the 1 day Workshops are open to max 2 guests
Get in touch to check availability of your preferred dates and to book this life changing experience
Rewrite your Reality 5 night Retreats
Includes:
​Typical day: Times may vary
8:00 Sunrise Yoga
9:30 Breakfast
10:30 Workshop (with tea break)
1:30 Lunch
14:00 Free Time
Ideal location for walking/hiking/strolling to the village
Siestas
Tennis
Chillin' by, or in, the pool
Booking a massage treatment
18:00 Healing Meditation
19:30 Vegetarian/Vegan Dinner
20:00 Free Time
Liz is a qualified Naturpath and Herbalist, a certified Massage therapist, and Medical Biomagnetics practitioner. She is also a Health Coach and expert in Energy Healing, and has extensive experience of working with people from all around the world.
Liz has an amazing gift for healing and can see through the "stories" we tell ourselves to justify our continued suffering in all areas of life. She gently and lovingly raises awareness so others can see the true source of their pain and suffering and thus let it go.
Deeply knowledgeable, highly intuitive and truly inspirational, Liz is passionate about, not only helping others find the source of their emotional pain and suffering, but also guiding them to new ways of thinking, in order to rewrite their stories.
"Wow! I am really grateful. I am back to living a happier and healthier lifestyle of which working with Liz definitely helped me achieve. Her knowledge and skills in alternative treatments arena is brilliant, and a lovely warmth feeling from the moment ya meet her. I would highly recommend Liz to anyone needing help to restore the balance back health and happiness."
Taryn Watson, Ireland
​"I really think Liz saved my life. Three months ago, I began to get all sorts of crazy physical symptoms and I was an emotional wreck. I met Liz and instantly bonded with her. She was so warm and kind and she seemed to intuitively know how to express what I was feeling when I was incapable of finding the words. To be honest, I'm not a very "woo woo" person and didn't believe science could back these therapies. But I was physically ill, I couldn't stop crying, and truly, I was at my wit's end. Fast forward to three appointments later. I'm like a new person. My physical symptoms are almost gone. More importantly, I'm emotionally and mentally at peace. I'm convinced Liz is a legit healer. The treatments were profoundly relaxing and completely non-invasive. And at the end of each session, Liz would comment on what she found or felt during the session. My jaw about dropped open the first time because it was exactly what I had been thinking and experiencing. The same thing happened the subsequent two sessions but now I'm not surprised. I'm convinced she has a gift. I can't recommend her highly enough."
Karen Carter, Javea
Deborah Jane Sutton is an expert in Energy Healing and an Advanced Yoga Teacher with over 500 hours of Yoga Therapy Teacher Training. She sees Yoga as a vehicle towards self-realisation and enlightenment. Deborah is passionate about sharing Yoga and Self-Healing techniques.
The author of two #1 Best Sellers in Energy Healing, Heal yourself to Happiness and Heal your Soul, Deborah has both the knowledge and experience to help you raise your awareness and apply effective healing techniques to change your life.
Deborah's purpose is clearly with helping others on their healing path. Helping people see the bigger picture, the power within themselves and nurturing self-love are her strengths. That and her powerful love and compassion for all those who genuinely seek awareness and healing.
"What an amazing experience to reconnect with yourself and learn the many ways you can transform your life for the better. I have never felt so peaceful and relaxed than in my time at the retreat learning from Deborah, being fed by Robert, and taking time to myself in the sunny hills of Alzira. My week in Spain was truly eye-opening, and has helped me in my daily life ever since."
Morgan Zerr, Canada
"Deborah guided me to open doors to an unknown spiritual world. I've never learned so much in a yoga class.
She made me feel why yoga is good for you. Thank you so much."
Wenche Kwinten, The Netherlands​
Message now to book your place on this amazing, life-changing retreat.
Feel free to message us for a chat about your personal needs and how we can help at this stage of your healing journey.