Testimonials
Emotional Healing, Mentoring and Yoga Retreats
"Wow, what an amazing experience was this Heal yourself to Happiness Retreat. For me, it was not about searching but about finding. And for sure I did! I am full of energy now and see the world with new eyes. The energy in the place is fantastic. Viewing the mountains from the swimming pool, will get you inspired anyway. The great talks I had with Deborah, made me feel at home immediately. The fridge was stuffed with lovely, healthy food and every night Robert made us delicious dinner. Both, Deborah and Robert, took care of me like I was their good friend.
Deborah guided me to open doors to an unknown spiritual world. I've never learned so much in a yoga class. She made me feel, why yoga is good for you. What I loved the most were the workshops she gave which have given me tools to raise my vibrations at home. I love to do yoga and meditation and I am using the emotion code techniques.  
Deborah: Thank you so much, you are a beautiful woman! I am now firing rockets as Abraham Hicks would say."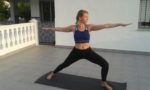 Wenche Kwinten,  The Netherlands
"My friends asked, "Are you really going to Spain to do yoga?"  Somehow, the "Heal Yourself to Happiness Retreat" found its way into the algorithms of my web search.  2017 had been a challenging year and I wanted to start the new one with a positive outlook.  I was really looking for a place to be quiet. 
From the moment I met Deborah I knew I had found the place.  She is a generous soul and very giving of her time and her knowledge.  She doesn't realize the power of her own personality and how much she raises the vibrations of any space she inhabits.  She is nurturing, in her teaching and in every way.  "Do you have enough to eat?   Are you warm enough?  Would you like a fire?  Are you sure?"   You will definitely want for nothing if you give your self the gift of a week at her retreat.
Her knowledge is boundless and I was anxious to learn all she could share.  Together we raised my energy level with positive affirmations, by releasing trapped emotions, and through meditation and Yoga.  She pushed me to do Yoga poses I didn't think I could manage and I am hungry for more.  Each day she shared a new lesson and I obtained skills that I will continue to practice and share. 
Heal Yourself to Happiness Retreat is held at the home of Robert and Deborah Sutton and the setting is stunning.  Their home is in a little valley, surrounded by mountains, orange groves, and incredible sunshine.  If you did nothing but inhale the splendor it would be worth the trip.  Robert is a marvelous cook and provided remarkably tasty and beautiful meals each day.  Additionally, the kitchen was packed with lovely fresh fruits, tea, milk, cereal and anything you could wish for. 
That 3rd week of January 2018 spent in Spain renewed me.  I left feeling gratitude for everything that I learned and everything that I have.  Upon my return my friends said, "You radiate happiness, what ever you did certainly paid off."  It was worth the journey from Texas and I plan to return."
    Tina Fucile, Buisness Development, Texas, USA
"If you have come across Deborah's retreat online, have heard about it from a friend whose gone, or if you're reading my review…please take this as a sign. I encourage you to sign up and heal yourself to happiness. My heart has become so overwhelming happy since my visit to Spain!
Deborah has such a positive, upbeat soul; that it's contagious when you're in her presence. She made me feel so relaxed and at home at the Villa and during our excursions to the monastery and Tavernes beach. The energy in these locations was amazing! The Villa will not disappoint. With a full kitchen, living room, 3 bedrooms and 2 bathrooms, sun terrace, tennis court and pool, what's not to love? The view of the mountains from the Villa was also breathtaking.
We completed workshops in releasing trapped emotions, EFT, Psych K, reflexology, spoke of the powers of crystals, chakra alignment and completed a few card readings. Learning to muscle test has been so beneficial and I continue to use it regularly. It was interesting to learn of my souls profile and to know how much it resonated with me. I have eaten minimal vegetables in 30 years. After a few days of the workshops, not only was I trying more vegetables, I was actually liking the taste. It has been a huge personal accomplishment for me!
Deborah and Robert ensured the kitchen was stocked with foods I like. Robert is an amazing cook and was so accommodating to my food preferences. Robert also provides the airport transfers for the short trip from the Valencia airport in the comfort of his van and is so helpful.
The morning yoga was an excellent start to the day. Deborah is a great instructor and took the time to go over all the poses, and encouraged me to push just a little bit more. Within the week my body adapted quickly and I was seeing a lot of progress and increased flexibility. You can't help but feel energetically connected on the sun terrace, looking out at the mountains, soaking up the sunshine!
Deborah: Thank you so much for this life changing experience!"
   Alicia Campbell, Alberta, Canada
"The tailored healing and coaching sessions were phenomenal because I really felt like Deborah knew me well enough to know exactly how to pitch the type of work we did. She intuits so well. The workshops we did on locating blocked emotions, the swaying technique and the use of a dowser combined with positive affirmations really helped me to recognise how easy it is to switch thoughts into positive ones in order to keep attracting what I need and desire.
The material we used and the books Deborah shared, as well as her own, which I also bought, were great tools that have inspired me.   This retreat for me was about taking it up a gear and Deborah helped tremendously. It was exactly what I needed to put all my good intentions into action.
Deborah's advice was very valuable;  I have a lot to thank her for.
Robert is an amazing cook. The food that he cooked was scrumptious. I love vegetarian food and not everyone can cook it well, but Robert's food was varied and very tasty and beautifully presented. I loved all the dishes he made. I could feel and see the love that goes into his cooking and the lovely gardens, plants and flowers in their beautiful grounds. Deborah's home-made hummus and veggie soup are awesome too.  The transport service Robert provided to and from the station was also great and was very much appreciated. He even went out of his way to drive through the town on my way to the retreat so I could see all the Valencianos in all their amazing finery during the weekend of Las Fallas. That was kind and very welcome treat!
Deborah is so real and so honest. I trusted her immediately and felt so at ease in her lovely presence that it allowed me to be open and honest with some of my most private and deepest experiences. She is a natural at healing and provided much needed insight and guidance towards self-healing and I love that she simplified all the facts about how easy it is. What I thought I knew before I came was something she made me take another look at and I certainly don't mind admitting that I needed to move a bit of furniture around in my head! The conversations were deep and very uplifting and light hearted too. I loved the laughter.
The workshops are fantastic. They really help to make one look at what is really inside that holds you back and being able to release emotions that no longer serve you. The workshops were a great opening to more learning opportunities and help as a great reminder that there is more to explore.
The time and space Deborah gives in-between workshops is very considerate and I appreciated it so I could process all the work we were doing.
I would say, though, that this retreat is not for the faint hearted. It's for people who love truth and really desire to get the best out of it. You have to be brutally honest with yourself and see this path as a journey and do the work. When I say work, I mean that in a good way. It is certainly not labour or toil. But being able to really feel, cry, laugh, get frustrated and at the same time know you are giving yourself the most wonderful gift of freedom from anything that stands in your way of really living your chosen path, then it's worth it. If I got emotional, it was the joy of knowing I had taken the right steps to put everything into action. And it's in the action where you really start to appreciate how far you've come and excitement of where it is all leading. But honesty with oneself is key so you can get the most out of this amazingly healing experience.
I wouldn't hesitate to recommend Deborah's Healing Retreat to others especially if they are serious about healing old wounds and changing their life for the better. For anyone that cares about their well-being and self-healing in order to live a full and spiritual life, it is the best door to walk through. Deborah is there to guide you with love, knowledge, grace and sincerity. She treated me like she had known me forever and I loved her honesty. She leaves no stone unturned when it comes to looking at how life's emotional blocks, that we all accumulate, can stand in the way of living in the now and appreciating prosperity in abundance.
The location is beautiful. I love the house and the surrounding area with the mountains in the background. It is peaceful and perfectly conducive to having a wonderfully spiritual and enlightening experience. I prefer this type of setting because it is full of natural beauty.
Deborah's yoga sessions are the best I've ever had. I absolutely loved the yoga. It is the best and most heartfelt yoga I have ever done. Deborah puts so much love into her yoga sessions. I always felt more connected to Source because she explains a lot about opening up the heart and breathing and love which makes the whole experience much deeper and more meaningful.
I absolutely loved the day out to the monastery, street market and beach. It is a lovely way of seeing some of the local attractions. The monastery is awesome and was much more magnificent than I had expected. I loved the market and the beach is gorgeous too. A very lovely treat.
The Retreat opened up a door that has led me to explore further and now I am booked onto a reiki course and have joined a monthly meditation class with a friend who teaches reiki. I am also going to do a course on anatomy and physiology. I'm also exploring other courses on therapeutic massage and essential oils. I probably won't stop studying now as I am absolutely loving how much all this wonderful learning is making me come alive."
Tracy Bane, Manchester, UK
"I would LOVE to give you some feedback because your Retreat was honestly life changing. 
My list of Highlights:
Accommodations were beyond expectations. I cannot stop gushing about having a 3-bedroom, 2-bath, huge villa! The pool, sun terrace, chicken coop and swimming pool were incredible bonuses. The villa felt like a dream. There is so much privacy and beauty. The scenery was spectacular. The palm trees, rose bushes everywhere, orange trees galore, Spanish villas, a safe neighborhood, the mountains, it was surreal to be there.
The sunrise yoga felt like a spiritual awakening every day. Watching the clouds roll over Eagle Mountain was such a joyous experience and gave me life for the day. 
Deborah is a FABULOUS yoga instructor. The way she speaks is so touching and lovely. 
I loved being able to do several Angel Tarot Card readings, the Soul Realignment, hearing about my Soul Profile, learning about the chart of consciousness and where I fall on it, learning the sway test, muscle test, learning about chakras, etc. 
I loved that Deborah helped me discover the power of affirmations, learn why I am the way I am, and how to live the purest and most joyful life.
The amount of topics we talked about and things Deborah taught me – there was so much information I had to journal every day just to remember it all. I definitely felt like I got my moneys worth out of it. 
The past lives reading and releasing trapped emotions was a big highlight for me.
Loved having activity options during the day! Swimming, napping, playing with the dogs, hiking, jogging, going into town, cooking, etc!
An intimate trip to the Monastery and Tavernes Beach for meditation.
Perfect balance of reflective alone time and structured activity. I never felt lonely and Deborah was very respectful of my space and feelings.
The FOOD! The kitchen was stocked with everything I love. Deborah made me extra delicious dishes (homemade Gazpacho soup from home grown tomatoes and fruit and honey flapjack!) and Robert made a cooked dinner each night. The food provided in the kitchen and for dinner was super healthy and delicious. 
A nutritionist even visited to talk to me about my diet. 
Excellent transportation to and from the airport with Robert in his luxury van!
I was also so happy to be there on my birthday and get a lovely gift of champagne. 
Deborah and Robert really made me feel welcomed and loved."
   Wendy Sites, Chicago, USA
"I have just spent a week at Deborah`s "Heal yourself to Happiness Retreat" and I loved every minute. I found it hard to leave this wonderful place in the Valencian countryside. You can feel the love Deborah and her husband, Robert,  put into the Villa. I enjoyed the tranquility of the location, the mountain views, the sunshine and the pool very much. Deborah is a wonderful host and a very welcoming and warm person. She radiates love and positivity and is great at everything she does (yoga, energy healing, massages etc.).
The Yoga classes are very energetic and accommodate for all levels.  It is lovely to do the morning yoga on the terrace while the sun rises.
The energy healing work was great for me, too. I feel a lot happier, more relaxed and in line with myself compared to only a week ago. I always needed a lot of sleep but I seem to have more energy now so I feel fine with less than my normal dose! J
I also really enjoyed the home cooked meals in the evenings.  For breakfast and lunch we got a fridge full of fruit, veggies and other good stuff so eating well and healthily was really easy. We even got figs and oranges from the garden and eggs from their own chickens.  Robert made us a delicious vegetarian Paella for our last night which we all shared – lovely!
I can highly recommend Deborah`s Heal yourself to Happiness Retreat to anyone looking for more positivity and (self-)love in their lives.
Thank you Deborah & Robert, you will see me again"
   
Anna Burchell, Yoga Teacher, Germany
"Deborah has a true gift. From the moment we had our first conversation I knew she was going to help me change my life.  Villa Rosa is nestled in the quaint village Barraca d'Aigues Vives, Valencia. The villa has gorgeous 360 degree views. The pool looks directly upon the mountains and the terrace has sunrise and sunset views. There are chickens which I received fresh eggs from every morning! Deborah was so accommodating and the light and love oozes from her every pore, it's contagious. She makes you more appreciative of life and has helped me to completely change my perspective and outlook on my future. She provided me the skills and know how to return home and continue with the positivity she instilled in me. 
Her yoga teachings have significantly improved my practice, the energy healing techniques and emotion code learning are invaluable to me. Deborah did a Soul Origin teaching on me which allowed me to see where I came from and why I am the way I am. This has lead me to a level of self acceptance that I didn't think I would achieve.
The setting is peaceful and beautiful and the love abundant. I recommend this retreat to anyone, I traveled from Canada and it was worth every second. I have been home for 2 weeks now and have a refreshed/new outlook of life. I will continue distance work with Deborah and will never lose touch with the woman who changed my life. Thank you Deborah xoxoxo"
"The best decision I have ever made #Lifechanging and Deborah is by far the best massage therapist I have ever had. 
Perfect!! I highly recommend this to anyone and everyone wanting to improve their perspective on themselves and their life
" />"
   Michelle Archer, Canada, Heal yourself to Happiness Holiday Guest 2016
''Thank you so much for an amazing week. Deborah was so loving and welcoming and as soon as we spoke on the phone I felt drawn to coming on her retreat 🙂
The atmosphere was spiritual, uplifting, relaxing and non-judgemental and provided a great space to look within and heal the spirit, mind and body. The yoga classes and meditations were brilliant and the workshops were amazing…releasing trapped emotions, clearing the energy field and the soul, and raising your vibration. I can't think of anything that is more worth spending your money on than that 🙂
The accommodation itself was perfect for a healing retreat..beautiful location, peace and quiet, lots of healthy and nutritious food..
I would really recommend this retreat if you want to connect more to yourself, your truth, your soul, and spend quality time with like-minded individuals.
Deborah is such a  special, loving and spiritual person and it is such a healing presence to be around????
Thank you so much and I hope to keep in touch 🙂
Love and namaste,
Olivia xx '' 
   Olivia, Yoga Teacher, UK
"Having spent two weeks at Healing Holidays I came home much more relaxed and well balanced. The treatments are carried out in the most wonderful setting by a very caring professional therapist. I have not felt as well as I do now for the past few years. My energy level is high and my emotional balance is restored. Life is fun again and my outlook is positive. Deborah worked on me with The Body Code. I have already recommended her to friends as I felt that a lot of time and care was put into the sessions I got. I would love to return to Spain and spend time with Deborah in her wonderful facilities. I wish Deborah all the best in the future and hope to see her soon" 
   Claire Gibson, retired teacher, Ireland
For Online Healing and Coaching Sessions 
"Well, I'm feeling like a million bucks! I'm loving the feeling. I did feel a little wobbly that early part of the day after the session, as you warned, but I feel at peace now….I feel ready to take on the world. I'm very excited 🙂
I forgot to mention one other thing….I had this knee problem with both my knees. I had several falls over the past 5 years and both knees were bad. After the sessions, my legs are fine. This is like a miracle!
There are so many synchronicities – the Universe is really talking to me that loud. This is so amazing! Thanks to your work, I am in the light now. Yayy!"
Starlene Webb, Maryland, USA
"Well… Today I feel super! I´m happy and excited.
After the first session I was very sleepy. I needed to sleep a lot and I had vivid dreams.
Difficult people in my life no longer trigger me and I don't feel any fear or anger towards them anymore.  It's like I have power over my feelings and they don't.
Last night I had a feeling like I don´t need to worry about the future… I realized that I don´t need to worry about it because everything will be ok and whatever I decide to do, it will be amazing and I will succeed…
After the second session I noticed that I am more confident now about everything but specially about myself and my ability to succeed in everything I decide to do. I did even a trip this weekend… I suddenly decided to travel and it was awesome!!!
I have been feeling like a Vulcan full of power. 
 All the topics we worked on were the priority and I´m very happy with the notes. Actually, I am joyful!!!
Thanks as well for the PSYCH K and the Archangel Raphael cards. I really appreciate that and I will follow the advice.
You can be sure that I will recommend your work to my friends.
I took some time to write you because every moment I can notice a difference in my behavior and my way to face life.
I realized that my mind is working better. It is easier to do my job now… it's like my thoughts are more clear. 
With my family and my people in my hometown, I realized how defensive I used to feel… I noticed that until a few weeks ago, when I suspected that I was about to meet someone I dislike, I used to start reacting like I need to hide something………. This week I noticed that I no longer feel it. 
I am following the dietary advice that came up and I feel much more energy and awake. But the more important is that now I feel that I have enough self love to keep it up… Like it's worth to work for a better health.
I also noticed that since our second session I no longer feel my other symptom and I am so happy because of this. And even other symptoms that I didn't tell you about have got better! Perfect!
Thank you so much for this help Deborah! I am all gratitude!!!"
DM, Civil Servant, Brazil
"Thanks for what you did for me last session. 
I feel quite different since. Mentally, emotionally and physically.
My mind is like more peaceful. I feel like an energy pulse going through my right ankle. My legs feel like they have been massaged. 
I've been feeling a bit wobbly, as you said. I know something has changed inside me. 
I can't wait to meet you again and keep working on releasing things.
I have other physical and emotional things I want to release.
But most of all, I would like to learn muscle testing myself to be able to release my own trapped emotions.  I look forward to learning more from you."
Estefan Guillem,  Alicante, Spain
"I had severe pains in my stomach with anguish and vomiting for 14 months.  Deborah worked remotely via email with me. After 3 sessions I felt really well and had no more pain. If some day I need your help again, I will get in touch with you.  Thank you so much, Deborah, for your help. Best wishes."
Maria Jose Pla,  Spain
"I have to say that working with Deborah is a pleasure and I'm delighted with the results!. I have recovered my confidence back in my muscle testing and in my life in general, I'm seeing life from a happier perspective and I am smiling back again. 
But it is not only that results from the session have been great, but also I am grateful for her loving, caring and gentle approach, she really cares about you and pays you the attention we all deserve.
I highly recommend to work with her to anyone that really wants to move forward in his/her life or wants to stop suffering and start living!
Thanks Deborah for all your help and love!"       
Carlos Ortiz, Spain
"Thank you for my Healing on my Heart Wall, Deborah, your detailed attention to details is incredible.
I really like how you can go back in time to my Ancestors problems too…..I don't know any other discipline that approaches healing in this way. Thank you for all your help.  xxx"
  Suzeck Taylor,  Positive Life Coach, Sussex, UK
"We had 3 sessions… And I certainly feel that something has changed in me. I feel lighter, confident, happy….. Deborah's way of working is very precise and thorough, and I believe that thanks to this she was able to get to a core issue that was stopping abundance, in all its forms, to flow into my life. Thank you Deborah." 
  Estela Davila, Emotional Healing Coach, Vigo, Spain
"Deborah has treated me for various ailments using The Emotion Code and The Body Code. Not only did she enable great results but she was also very knowledgeable about the treatment and offered me post-treatment support. Aside from Deborah's professional abilities, she is warm and personable with great people-skills. Highly recommended!"    
   Katie Wood, Global Client Development Advisor, London, UK
"I have had a number of sessions with Deborah now for The Emotion Code and The Body Code. She is professional and intuitive. Her work has produced results in my life. I know God has used her to bring a measure of healing to me. I recommend her."   
   Lynda Alsford, Author (He Never Let Go and Being Known) and Speaker, Sussex, UK
Soul Realignment Healing Sessions
"I am so happy to have done soul healing work with Deborah, which helped me clear emotional baggage, shift thinking patterns and has put me on a more positive and happier path. She is knowledgeable, intuitive and caring and a joy to work with. Thank you for your amazing work Deborah."
Maria M. London, UK
"I feel great. Less tired. More focused. I feel like I am getting "repaired". I am feeling and hearing a lot more than before. 
It really brings everything all together."
   Todd Le Bouef, RMT,  Mind, Body & Spirit Reiki,  New York, USA
"I just wanted to send you an update, which is also a big  shout out to you and the work you did for me. Life is going beautifully. I am happier than I have ever been. My marriage is stellar, business is booming, my health is getting back on track and my intuition is stronger than ever. Thank you."
   Alise, Unveil the Mystery, Claim Your Divinity,  www.thecosmicwomb.com
"I am an energy healer myself and as such I have done, read, studied and practiced many healing modalities. Deborah and her Soul Realignment work was able to get to the root of an issue that has been with me as long as I can remember, but had never come up before in any of them.  I can feel that something has shifted.
I cannot recommend Deborah enough, not only for the excellent work she does, but for the love and care she puts into every healing session she does."
   Estela Davila, Emotional Healing Coach, Author (Avara 2011) Vigo, Spain