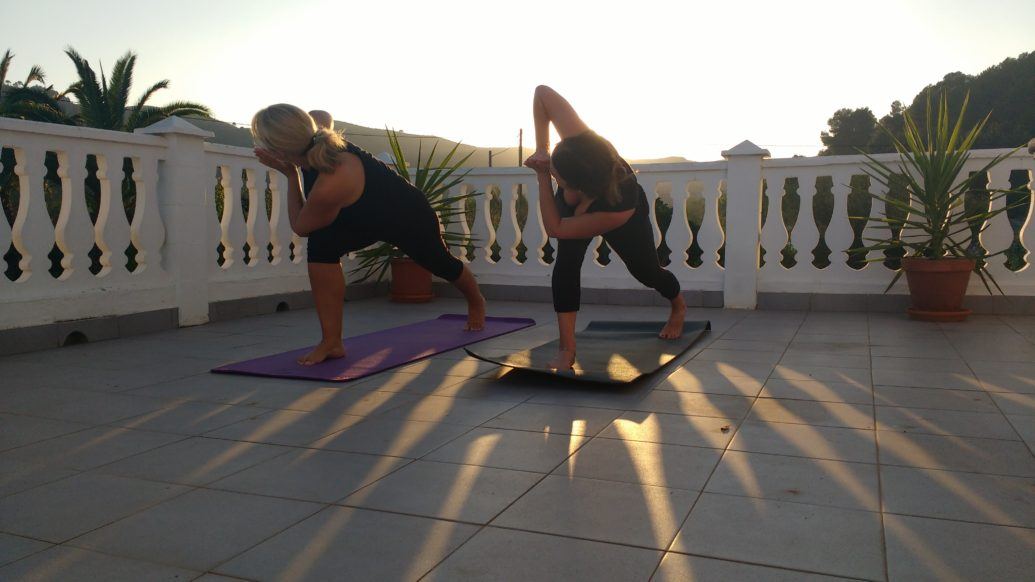 How regular Yoga practice actually improves your life OFF the Yoga mat
I am often telling my Yoga students and people in general (anyone that will listen really!) that regular Yoga practice creates progress in your life OFF the mat as much as it improves your practice ON the mat.  People who already practice Yoga regularly know this fact, even if they can't explain it.  And those who can explain it will probably give you a load of scientific information about the biological and physiological benefits of the different postures and other aspects of the practice.  These, of course, are truths not to be ignored and here is the link to an excellent short video about The Science of Yoga which, in my opinion, is a must watch for anyone practicing or thinking about taking up Yoga.
https://www.youtube.com/watch?v=CIbR7odQklk
From an Energy Healing Point of View
However, we are not all scientifically minded.  I am not.  I view Yoga as a form of Energy Healing because, quite frankly, it is! Everything is energy so anything that helps you heal must be energy healing of a sort. But Yoga is energy healing in every sense of the word.  As an Energy Healer I work very much with the release of negative trapped emotions, limiting subconscious beliefs and releasing blocks and restrictions at Soul level and I really want to explain how all this can be achieved through Yoga.
One of the many reasons I love Yoga so much is because, from my Energy Healing perspective, it really is the icing on the cake.
I use The Emotion Code and The Body Code for emotional healing, PSYCH K and The Body Code for mental belief healing and Soul Realignment for Soul level healing (with lots of overlapping and intuition!).  I now see Yoga as an umbrella that embodies them all.
So, getting to the point, how does Yoga improve your life off the mat?
When you practice Yoga, you are stretching each body part to its limit. It's important to go to your limit – no further, no less – to your body's natural limit.  Where your body naturally says "stop".  If you go further than this your body won't thank you and if you go less than this you will take longer to transform to a new place and a new you. If you go to your natural limit regularly, it's like a gentle tapping on your limit.  As you hold each pose use the breath to inhale love and healing and exhale tension and stiffness and with each breath your body will naturally move a little further into the pose.  Sometimes slowly and sometimes more quickly your limit will move and your body gently and naturally wants to go that little bit further enabling you to deepen the pose and experience something new.  This is when we transform the most.
Visualisation
Time for a little side note here on visualisation. Visualisation is the most powerful (and easy) self healing tool we have in our power. By constantly visualising tension, negative emotions, other negative energy and limitations actively releasing from our bodies on our exhale while visualising the healing love, light and vitality of our life force energy entering our bodies – through the crown chakra, heart chakra, root chakra, with our breath and through every pore – we can totally maximise the healing benefits of our Yoga practice.
Our subconscious cannot differentiate between reality and our imagination. If you watch a horror film, you will still feel the fear and anxiety even though you know it's not real and when you see someone being hit and hurt you can feel it in your own energy, right?  In the same way, whatever you choose to run through your own mind will have an effect on your own system.  Choose to imagine powerfully healing scenarios and they will be just that, powerfully healing.  But back to the topic in hand…………………how does regular Yoga practice help you transform your life OFF the Yoga mat?
What is actually limiting your body when you practice Yoga?  You will, no doubt, say your inflexibility and, of course, you're right but it's more than that.  It's more often than not our trapped emotions and inflexible negative beliefs that cause this limitation.  Yes – even the physical limitation of the body during Yoga is caused by your trapped emotions and inflexible negative beliefs.
Trapped Emotions
Let me explain what I mean by a "trapped emotion"  for those of you who have not come across this term before.  A trapped emotion is basically a ball of energy (everything is energy including our emotions/thoughts/beliefs) that, having not been processed completely, gets lodged in our body somewhere and causes a blockage to the natural healing life force energy that is constantly flowing through us.
When we feel a negative emotion such as fear, panic, heartache, grief, anger, anxiety, jealousy, shock, rejection, guilt etc we often don't process the feeling and the energy of the emotion doesn't pass through our energy field.  There are many reasons why we may not process the energy of the emotion at the time.  Usually we just don't want to feel it so we suppress the feeling.  Shock and grief can make us "go numb" and also sometimes because the western culture  is one of holding emotions in.  Compare a European funeral with one from the middle east where you will see mothers openly and loudly expressing the energy of the emotion they are feeling.  Sometimes we don't want to admit we are feeling a particular emotion such as jealousy or we may have been brought up to believe that crying isn't good.  Whatever the reason, we all trap negative emotions within our bodies. They can be caused by major traumatic events in our lives or just by simple comments by others or lost toys even.  They can often lodge in organs and parts of the body relevant to the emotion, for example, fear in the kidneys, anger in the liver, sorrow in the lungs and so on.
For more information about trapped emotions you can read my whole article on the topic here on the Blog page of my website.
https://deborahjanesutton.com/blog-trapped-emotion/
Limiting Beliefs
Negative beliefs come from the subconscious programming that we have received at certain stages of our lives primarily in our early childhood.  Often parents and teachers have no idea how easily and readily a young mind will take on a belief especially when it's about themselves.  It is very common, and I see it every day in my line of work, for people to have beliefs of low self worth due to criticism in their early years. Our views on money, relationships, love, security and, as I said before, self worth,  all come from the early programming we received as infants. Unless, of course, we have taken measures to look into this and change such limiting beliefs.
You may well wonder how this causes us limitations in our Yoga practice but you need to keep in mind (always!) that everything is energy, including our thoughts and beliefs.  And we are energy – our energy field and our so called physical bodies are just energy vibrating at differing frequencies.  The negative, unhealthy energy vibrating at lower frequencies and the positive, healthy energy vibrating at higher frequencies. All this energy is either flowing around or lodged and stuck in our bodies.  I have already mentioned that trapped emotions get stuck and block organs and other parts of the body that relate to them but beliefs can too. For example, fears about the future and fears about finances can cause blockages in the lymphatic system. Perceived burdens in our lives tend to locate themselves energetically on and in our shoulders.  I could go on but you get the gist.  To learn more about this particular topic of where our emotions and beliefs manifest in our bodies check out the end of Louise Hay's classic book You Can Heal your Life here.
You Can Heal your Life by Louise Hay
For more information on changing limiting beliefs you can read the article on my Blog page below about PSYCH K.
https://deborahjanesutton.com/psych-k/
So now you can see what exactly is limiting your body when you practice Yoga – it may feel like your muscles are what is causing you to stop your stretch and, of course, this is true to a certain extent but, energetically, it is so much more than that.
You have also seen now how gentle and regular "nudging" at your limit, using your breath to deepen each pose whilst remaining relaxed is one of the ways to release such limitation by releasing the energy that is lodged there.  This process happens very naturally in Yoga. You may not have even been aware of it. Have you ever just felt like crying during your Yoga practice?  Without really knowing why?  Have you found that random feelings and memories come to you during your Yoga practice that you can't account for?  Well, now you know.  It is the thoughts and events that caused the emotional blockage or belief running through your energy field and subconscious mind as they are being released.  Tears are always a good indication that emotional release is going on so never stop them. Acknowledge them. Give thanks for them. Let them go. Give blessings for the natural energetic cleansing that you are receiving.
A side note here too on the possible effects of such energy releasing.  The first one being tears of absolute joy!  Warning: Yoga practice can cause absolute joy! That high feeling you get during and after a Yoga session is clearly evidence of your greater connection to Source energy.  The great ideas that pop into your head during and after a session of Yoga is further evidence of the life force energy doing its thing.  Yoga practice, by releasing energy blocks,  increases this channel with Source, and gives you greater creativity, health, clarity, intuition, love, light, purpose, meaning, do I need to continue?
Processing Emotions
However, there can also be perceived negative effects of this energy release in the form of various illnesses and pain.  If you again think energetically, it's all very logical.  As the energy of these emotions release from your body you can feel them.  You may experience vivid dreams and recall certain memories as these emotions fully release from your energy field.  When I studied for my Holistic Diploma, we called this effect a healing crisis. In The Emotion Code world we refer to it as a period of processing.  At Soul level, we refer to such releases as shifting. 
Personally, I prefer the word processing.  These trapped emotions have been stuck in our bodies because we didn't, for whatever reason, fully process them at the time we originally felt them.  So, in my opinion, it's really important to acknowledge these feelings and actively visualise and nurture their release from your body so you don't inadvertently,  suppress them again.  Your attitude at this time can make all the difference between healing and transforming somewhere exciting and new or remaining stuck.
Taking pain killers only silences the message your body is trying to give you. In extreme cases, you may need them to help you function or sleep but the truth is, you don't want to ignore this pain.  You want to understand it.  Acknowledge it and release the underlying cause of it.
You may not immediately connect the illness or pain you are feeling with this emotional release.  What illness or pain you experience will depend on the location of the block being released and the nature of the belief being released.  The emotions you feel while processing will also depend on the emotions being released.  This is why I have to warn clients that symptoms can often worsen before they improve.  So if you feel unusually grumpy, sad or angry be aware that you may have released this from your body during Yoga and embrace the new you that is emerging!
As I said, your attitude here is crucial for healing.  If you complain and curse your body and the pain you are experiencing,  you are just sending greater negativity towards your body.  Illness and pain is simply your body's way of telling you it has something to release.  By being grateful for this and embracing the opportunity to release and grow and by sending love to your body and its parts you will find greater, and quicker, healing.  Food for thought for the next time you are sick, eh?
Here is a link to an article I wrote about pain being your friend last year after experiencing awful back ache.
https://deborahjanesutton.com/when-pain-is-your-friend/
One of the ways to really know that your illness was actually caused by your Yoga practice is by seeing how far you can go the next time you practice Yoga.
During my bad back episode, I was concerned that so long without practicing Yoga would result in my being stiff and unfit.  I was concerned that my practice and my reach would go backwards, however, completely the opposite occurred.  Despite not practicing for a couple of weeks, when I did, I found my body naturally went even further than ever before.  I found myself doing poses I'd never been able to do before. I felt stronger, more flexible and more balanced – and needless to say, more joy!  The more flexible you are on the mat the more flexible your thinking will be off the mat. The more balanced you are on the mat, the more balanced you will feel in life in general.  So now, when I don't feel 100%, I retreat, love myself a little bit more and look forward to the spiritual growth that is coming my way.
Remember, arrows can only be shot forward after being pulled back first. Next time you feel poorly or that life is dragging you backwards, just think how far you're going to fly!
Releasing low vibrating negative energy from your body causes the overall  frequency of your body's vibrations to rise. This is key.  It is this rise in our vibrations that is causing our life to improve off the mat.  By the Law of Attraction, we will attract "like" energy into our field. The more positive our vibrations, the more positive energy will come to us. This can be in the form of people, experiences, food preferences, opportunities, thoughts, beliefs, intuition, creativity, love, romantic partners – shall I continue?
This is how your progress ON the Yoga mat, creates progress, and spiritual growth,  in your life OFF the Yoga mat.
(from an energetic point of view!)
With love, light and blessings,