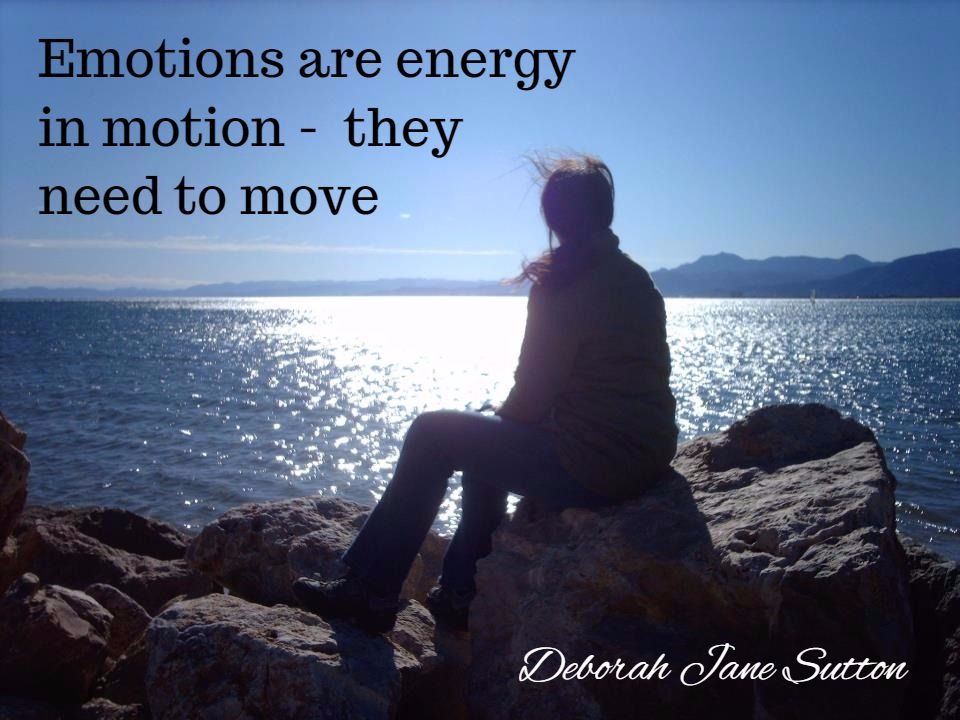 3 Steps to Releasing Emotional Energy (and not trapping it)
As an Energy Healer who specialises in Emotional Healing with The Emotion Code, I talk a lot about trapped emotions:  in particular,  what they are, how they get trapped and how to release them.
However, I have also been asked by many clients, who have cleared a load of trapped emotions, how they can prevent trapping more emotions in the future especially when "life just happens".  This is an interesting and practical concept and one that I have found a need for myself recently so here is my simple but essential 3 step guide to avoiding the energy of negative emotions from lodging in your body somewhere, causing you blockages, mal-function and illness.
1.  Acknowledgment
We're here to express ourselves at Soul level through our humanity and that involves embracing life and all it has to offer. You can read extensively about how we can prevent a lot of negative energy and emotions in the first place by choosing our friends carefully, learning to meditate to maintain more peace within and by generally avoiding negative situations and drama etc.
This is all very well but sometimes negative emotions still creep in and you know what, sometimes, even, they are meant to.  Life is not about avoiding negative emotions all together – some, eg: grief,  go hand in hand with positive emotions – so they cannot be avoided. It's about knowing how to deal with them when they arise so their energy can pass through you and not get stuck.
Like all energy (including us) emotional energy wants to be acknowledged.  It wants to be noticed, appreciated, maybe learned from, maybe acted upon but whatever else you do with it, it wants to be acknowledged.
Too often in our culture we are encouraged to hide our emotions – big boys don't cry, stiff upper lip and pull yourself together etc.  This is exactly how we stop negative energy from passing through our fields and causing it to lodge somewhere within us – only to cause us issues later in life.
Maybe we feel we shouldn't feel a certain way because other people have it worse or maybe we judge ourselves too harshly by believing we shouldn't feel a certain way.
But you know what – it doesn't matter what other people are feeling or not feeling – comparing ourselves to others is never a good thing.  And judging ourselves is just another form of self criticism, is it not?  Another form of self-abuse and beating ourselves up. Definitely to be avoided at all costs.
Sometimes we just don't want to admit to feeling a certain way eg: jealousy. Or maybe we just don't like the feeling negative emotions give us and we choose to bury them so as not to feel them. But that's the whole point of negative emotions – they have come to us to be felt.  They have come to us for us to process. They have come to us as a message from our bodies, from our hearts – a message we need to heed in order to grow.
"Denying yourself the experience of pain is denying yourself the
experience of growth."
 So allow yourself to feel the emotion.  Don't pretend for whatever reason that you're not feeling them – they are part of your humanity. Give yourself permission to feel the sadness, the grief, the heartache, the jealousy, the pain whatever it is.  Be kind to yourself.
Self-love here – always important.  Give yourself the time, the solitude and the situation in which you can just sit and be so you can feel and acknowledge the sensations within.  Verbalise it.  Use an affirmation to focus your intention.
I allow myself to feel this pain. 
I give myself permission to truly feel this pain. 
I am ready and willing to feel this pain.
I am ready and willing to listen to my body now.
Please note that I am not suggesting a prolonged state of "wallowing" in one's negative emotions here but a healthy amount of acknowledgement before moving onto the next step.
2.  Process it.
Like all energy – our emotional energy wants to move, it wants to flow. Like water it will go stagnant and bad if it is prevented from flowing.  This is why it's best to be on your own for this part.  Most good friends, however well meaning they are, will encourage you to stop crying and it's exactly this stopping of crying that is suppressing the emotional energy.
I often see my clients and guests crying – and, to be honest, I think of it as something to be celebrated – after all, the negative energy is coming out – it's the most healing practice our bodies have – having a good cry. It's literally energy in motion and that's what we want. The energy moving out – passing through our energy fields.
So crying is the number one way to process the pain. Encourage the tears as you visualise the negative emotions moving through your body and releasing.  There are a number of other ways we can process our negative emotions.
Writing in a journal is a favourite for many.  Just find yourself a pen and paper and start writing.  Write how you feel. Describe the emotions. Vent any feelings around the situation onto the paper.  You can do it in the form of a letter to a specific person or even a letter to the Universe.  Keep going, writing anything – whatever comes to mind. As you feel a wave of emotion, write it all down.  As you feel the emotions begin to subside you can turn your writing into a gratitude list and start focusing on the positive.
In addition to writing your emotions out of you, you can also sing them out!  Or dance them out – or in my case, Yoga them out!  If you set your intention (sankalpa) before your yoga practice of processing these negative emotions you will find that, firstly, you may feel the need to cry during your practice and, secondly, that you will feel heaps better afterwards. Very cathartic.
Of course, all sports and physical activity can be cathartic as is painting, drawing etc  So find your preferred outlet to process your negative emotions and you'll even find it enjoyable to do so.
3.  Release it.
Releasing your negative emotions is pretty much dealt with during the processing stage but you can use affirmations and gratitude to confirm the release of certain emotions.
I release all negative energy from past experiences and let go of any toxic conclusions made.
I release all feelings of fear, sadness, grief, heartache, anxiety, despair…….now and set myself free.
I am grateful for the release of "this" emotional energy
Gratitude is a powerful energy.  And as "time" is just a wibbly wobbly line in reality, we can use Gratitude in Advance which is super powerful.
Thank you for the release of this emotional energy. Thank you for the lessons and growth from this pain.  I am grateful for its release now.  All is well in my world.
                                                                                             And so it is.
Let me know how you get on.  Please share your comments below and get in touch if you'd like help with releasing trapped emotions or coaching in how to do it for yourself.
Love and Blessings